Mr. and Mrs. Bugg (dream a vacation)
I received an email this past week informing me that our video Echoed Space/ Mr. and Mrs. Bugg (dream a vacation) has been invited to be screened during Dutch Design Week's Film + Design Festival. Great mid week news. The video was first shown this past April during ASVOFF (A Shaded View on Fashion Film) Milan.
Now I am still trying to figure out (aka finance) a way to ship the pieces back to the amazing Andrea Cammarosano. Tis the story of brokeAmbition. Whatever. The experience of writing and co directing this film made me (once again) happy to be alive.
Here are the pieces, living peacefully in my work studio at home.
The pieces were in our bedroom, until they threatened to dampen my  'lovers rock'. Needless to say, adjustments were made.  Anyways…
This week other important things happened
a. I have decided to make a calendar for the upcoming year in which everyday there will be alternating  Big Sean and E-40 quotes.
b. After having waited over a month and a half for my absentee ballot for the federal election and having received no reply to my registration (I am a U.S. expat living in Austria) I have decided that perhaps Uncle Sam actually doesn't want me. And apparently neither does 'Onkel Friedrich', because I will never be allowed to vote in good ole Österreich.  On the bright side, voting or no voting, I can always visit the magical weirdness of Richard Teschner at the Austrian Theatre Museum, and that almost makes up for my lack of a patriotic uncle…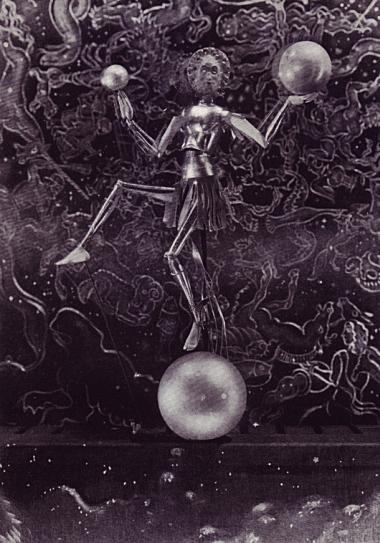 and c. While DJing in the middle of nowhere in the Austrian countryside, I narrowly escaped getting lost in the bathroom, due to amazing camouflage (in an orange world) on my part.
at home I only want to listen to this
(side A, track 4, Sonny James 'Young Love' absolute tune)
but my 5 year old son only wants to listen to this
(soundclash)
things I loved (and continue to love)
1930's stenciling in Viennese stairwells
Wyatt Earp in this picture
all of the lucite and bakelite in  my life and on my wrist
and of course my favorite Austrian pastime  'K.A.C'ing' (Kickin it At Castles)
x aus Wien
See Adia's Closet interview here.